A South Australian student has seen personally that life is sad in that not everything turns out the way we want or plan.
He was dismayed when not a single customer showed up after taking the daring risk to open his own cafe.
Tom Oswald, an 18-year-old South Australian, apparently planned to veer away from the more conventional curriculum as soon as he graduated from high school.
Oswald, who believed he had finished his studies for the time being, made the decision to take a chance rather than continue by opening a little cafe in the town of Handorf, southeast of Adelaide.
By all accounts, the adolescent put a lot of money, sweat, and tears into the venture, building a cute small shop that he was excited to open to clients.Tom, however, is said to have been distraught when he opened his store only to find no customers. In a since-viral video, he used TikTok to share this painful event.
Tom, on the other hand, is alleged to have been upset when he opened his store and discovered no customers. He shared this upsetting incident on TikTok in a video that went viral.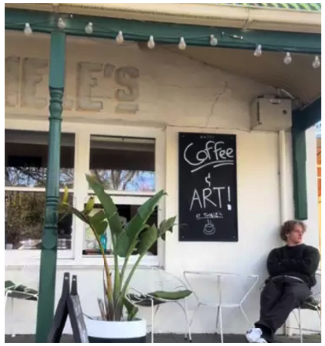 Tom has amassed a sizable internet following as a result of his sob-inducing confession, which has garnered more than two million viewers and an eager fan base.
One person wrote, "This makes me so sad. Tell me where this is so I can come.
Another said, "Me checking flights just to come and support this man's cafe."
A third person said, "We've got a group coming up to Hahndorf in a couple of weeks; we'll come in for coffee!"
Tom's TikTok can be seen here or below.
Tom mentioned that in order to get the experience he would need to run his own café, he had spent two years working at another cafe. He admitted that he could be more proficient at making coffee, but he stated he's continuously working to improve.
The 18-year-old told News Corp, "I am straight out of high school, currently in my gap year, and this project is practically the only thing I'm ever working on.
I'm either working in the shop or working remotely to identify methods to make the company run more smoothly.